843 S Campbell Ave,
Tucson, AZ 85719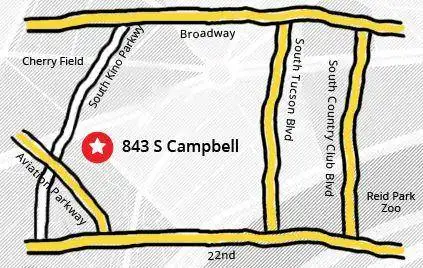 Monday – Friday: 7:30 am – 4:30 pm
Saturday-Sunday: Closed
Open 7:30am to 4:00pm and closed for lunch 12:00nn-12:30pm
Fuel System Cleaning Services
Accurate Service provides complete fuel injection system services for cars, pickups, and SUV's in Tucson, Arizona. Accurate Service has been providing Tucson with trusted auto care for over 21 years.
Call us at (520) 622-7685 or click here to schedule an appointment online.
Why Do People Choose Accurate Service?
"Great service! They diagnosed and fixed my car right away at a very affordable price. Will definitely be back if I need anything else done on my car."- Faith N.
"I am a business owner myself and I know how important customer service is. We own and operate an air conditioning and heating outfit and have been in business for over 33 years. We know the value of a satisfied customer and I am one of them!!! I would also like to give a big thank you to Annie Carlin for a great attitude and great customer relations."- David M.
Have you noticed that your vehicle is operating sluggishly? Does it lack acceleration? If so, it may be time for a fuel system cleaning service.
Clogged fuel filters or fuel systems can reduce your vehicles performance and fuel efficiency. The expert technicians at Accurate Service can help.
When you drive, you press down on the gas pedal and the engine takes in fuel and air. Over time, deposits can form in the fuel system which reduces your fuel economy and causes you to lose power, among other possible driveability issues. Having fuel system cleanings performed periodically can help your vehicle maintain its ideal engine performance.
How Often Does Your Fuel System Need Cleaned?
For recommendations specific to your vehicle you should refer to your owner's manual.
Today's vehicles are designed with efficiency in mind, and these types of services are not required as frequently as one may think. Most newer models do not require a fuel system service prior to 60,000 miles- unless, of course, a problem comes up. Kelly Blue Book advises vehicle owners to keep an eye on their fuel economy. Should you notice a steep downgrade in your fuel economy, it may indicate that it is time for a fuel system cleaning.
Fuel System Cleaning Services at Accurate Service
Fuel Injector Cleaning Service- During this service, our expert automotive technicians will clean and remove harmful deposits in the fuel system, combustion chamber, and injectors.
Fuel Filter Replacement Service- The fuel filter is responsible for keeping dirt and other contaminants that are in your gas tank from reaching the vital parts of your fuel system, like the fuel injectors, where they can seriously impact the drivability of your vehicle. During this service, our expert automotive technicians will remove the old fuel filter and replace it with a new one.
A fuel system cleaning service will help keep your engine running smoothly and efficiently. Our expert auto mechanics offer the best fuel system cleaning services in Tucson, AZ at the best price. We service all makes and models of vehicles and can do any repair whether it be large or small. Call us at (520) 622-7685 or schedule an appointment online.