843 S Campbell Ave,
Tucson, AZ 85719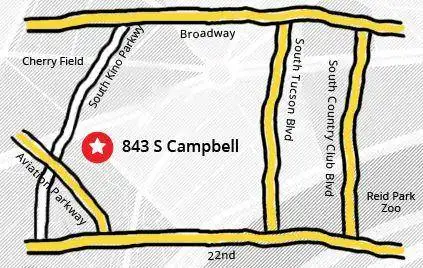 Monday – Friday: 7:30 am – 4:30 pm
Saturday-Sunday: Closed
Open 7:30am to 4:00pm and closed for lunch 12:00nn-12:30pm
Windshield Wiper Repair and Replacement
Accurate Service provides complete windshield wiper repair and replacement for cars, pickups, and SUV's in Tucson, Arizona.
Call us at (520) 622-7685 or click here to schedule an appointment online.
Why Do People Choose Accurate Service?
"Amazing service above and beyond the call of duty, reasonable prices, clean shop and they take care of their business, and customers. "- David O.
Windshield Wipers are Important for Vehicle Safety
How many times have you been caught off-guard by the first storm of the season with a smeared or streaky windshield you can barely see out of? Or with no washer fluid? Or with wipers that don't even work?
Wipers are critical to our vision when we drive, and should be treated as an important safety feature on the vehicle. As wipers live outside of the vehicle, the blades are exposed to the elements and can easily become torn, brittle, and dry. The Tucson, AZ desert is considered an extreme climate, and can be extra harsh on your wiper blades, especially in the summer months.
It is recommended that you change your wiper blades at least twice a year- before they become damaged. Wipers should be replaced immediately if you notice streaking, skipping or bouncing, splitting, or squeaking. These things indicate that the wiper blades are no longer maintaining proper contact with the windshield. Here in Tucson, it is best to do it before the summer monsoons begin. Don't forget the rear wiper if you have one!
*When you replace your blades, be sure to check the windshield washer fluid level and refill it if necessary.
Windshield wiper maintenance does not only entail changing the wiper blade. Windshield wipers consist of a pivoting arm with a long rubber blade, and an electrical motor device that moves the wiper blades. It is important that the entire wiper system is maintained for better visibility in adverse weather conditions.
Windshield Wiper Motor Replacement
The windshield wiper motor begins to spin when you pull the activating lever on your steering column.  The motor powers the pivoting arm that holds the wiper blades causing them to glide across the windshield removing any water and debris. If the motor dies, there will be no power to the arm, and the wipers will no longer move.
Fortunately, if you pay attention, you will receive signs that the wiper motor is about to fail and needs replaced, including:
Windshield wipers move to slowly
Windshield wipers do not move
Windshield wipers only operate on one speed
Windshield wipers won't turn off
Windshield wipers don't stop in the proper position
Remember, if you experience any of the above symptoms, have your wiper system inspected immediately so that you can drive safely the next time you are caught in inclement weather.
When you bring your vehicle in for a windshield wiper motor replacement service, we will:
Inspect the entire wiper system
Test the fuse on that circuit
Test for power and ground at the motor
Remove and replace the defective motor
Lubricate all facets of the wiper system
Test the wipers for proper operation
If we see any bending of the arms that could cause trouble or damage to the wiper blade, we may recommend their replacement at that time as well.
Reliable windshield wipers are just as important to safe vehicle operation as good tires and brakes. At Accurate Service, we offer the best windshield wiper repair and replacement in Tucson, Arizona, at the best prices. We service all makes and models of vehicles and can do any repair whether it be large or small. Call us at (520) 622-7685 or click here to schedule an appointment online.