843 S Campbell Ave,
Tucson, AZ 85719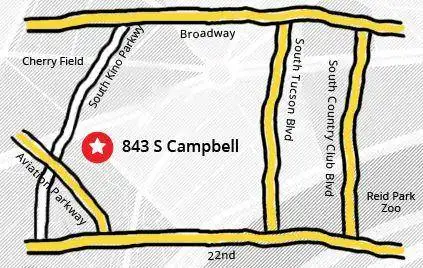 Monday – Friday: 7:30 am – 4:30 pm
Saturday-Sunday: Closed
Open 7:30am to 4:00pm and closed for lunch 12:00nn-12:30pm
Tire Repair and Replacement
Accurate Service provides tire repair and replacement for cars, pickups, and SUV's in Tucson, Arizona. Accurate Service has been providing Tucson with trusted auto care for over 20 years.
Call us at (520) 622-7685 or click here to schedule an appointment online.
Why Do People Choose Accurate Service?
"I felt that the owner and everyone that works at Accurate Service are smart, thoughtful, and conscientious, which takes a lot of anxiety out of dealing with an auto repair shop."- Brittany P.
Even the most cautious driver will at one point in time encounter a problem with one or more of their tires. Accurate Service is here to help.
Tire Repair
Is your tire flat, losing pressure, or punctured? Your first thought may be to have it replaced, however, that may not be necessary. It might just be a faulty tire valve stem that needs replacing, or perhaps your tire only needs a patch or plug. Depending on the damage, we may be able to repair it in accordance with industry standards.
Remember, driving on a flat or underinflated tire can have a serious effect on the handling and braking ability of your vehicle. It also increases the damage to the tire which could result in the need of a full replacement as opposed to a repair. Driving on a flat also increases your risk of wheel damage, which is a much more expensive problem. Fixing a punctured or flat tire in a timely manner will extend the service life of your tire, and limit the amount of money you need to spend.
During a tire repair service, we will:
Remove the damaged tire from the rim
Inspect the tire inside and out
Repair the tire liner to make sure that the seal is airtight
Fill any punctures
Check and fill the tire pressure to the correct psi
Balance the tire
Remount the tire
Unfortunately, not all damaged tires can be repaired. In those cases, or when it is time to replace all your tires, we offer a tire replacement service.
Tire Replacement
When your tires have reached the end of their life, we can help you with the replacement. During a tire replacement service, we will:
Remove the old tires
Mount and seal the new tires
Inflate and balance each tire
*Remember, to prolong the life of your tires you need to check the tire pressure at least once a month, and periodically check them for wear and damage.
Our expert mechanics offer the best automotive repair in Tucson, AZ at the best price. We service all makes and models of vehicles and can do any repair whether it be large or small. Call us at (520) 622-7685 or schedule an appointment online.