843 S Campbell Ave,
Tucson, AZ 85719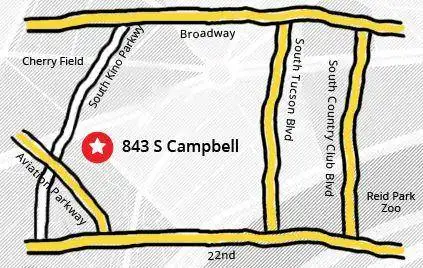 Monday – Friday: 7:30 am – 4:30 pm
Saturday-Sunday: Closed
Open 7:30am to 4:00pm and closed for lunch 12:00nn-12:30pm
Accurate Service provides complete automotive timing belt replacement for cars, pickups, and SUV's in Tucson, Arizona.
We've been servicing vehicles in Tucson, Arizona for over 20 years!
Call us at (520) 622-7685 or schedule an appointment online.
What are Customers Saying About Accurate Service?
"It was great. Didn't feel like I was trying to be sold anything and they helped accurately and clearly explain issues with my car."- Patrick O.
What is a Timing Belt?
The timing belt looks like a large black rubber band. It connects the camshaft to the crankshaft at the front of the engine. It helps to ensure that the pistons and valves of the engine are raised and lowered at the right time and keeps the engine operating smoothly and efficiently. If there were no timing belt, the engine would have no guideline as to when to raise and lower its machinery. If the engine pieces should collide, it could cause serious and expensive damage. Timing belt replacement is a common occurrence in Tucson, AZ as the desert heat degrades the belts rather quickly.
When Should the Timing Belt be Replaced?
Timing belts are usually replaced as part of your scheduled preventative maintenance. On average the timing belt is replaced between the 60,000 and 105,000 miles. In the harsh driving conditions provided by the desert heat of Tucson, AZ, it is probably best not to push replacement past 90,000 miles. If there are any signs of premature wear, then the timing belt should be replaced early.
*Note: It's much cheaper to replace a timing belt before it breaks down than after!
What are the Symptoms of a Failing or Bad Timing Belt?
It is loose fitting. When you touch the timing belt, there should be no "give."
It is too tight. Too much tension could result in snapping or keep it from rotating freely.
It is dry, cracked or nicked.
The "teeth" are broken or missing.
It is showing signs of dry rot. Motor oil and heat will destroy the rubber timing belt over time.
Rough idle. A tell-tale sign that the timing belt is on its way out is a rough idle. If this is happening it is possible the belt has been stretched or is missing some teeth. You should have the repair done quickly to avoid further damage.
Vehicle shakes when driving. The timing belt manages the timing of your vehicle's engine. If the timing is off it may result in shaking, or the vehicle not running as smoothly.
Difficulty starting. This is a favorable scenario when it comes to a failing timing belt. If the timing belt were to fail or break on the highway instead, have a higher risk of the valves and pistons impacting which could destroy expensive engine components.
Excessive vehicle vibration. When the timing belt is worn past usefulness but is not broken it can result in vehicle vibration. This could mean that the belt will snap at any time and should be replaced right away.
Knocking noises. Anytime you hear a knocking coming from the engine it is a cause for alarm and should be dealt with immediately. If a broken timing belt is the cause, then you are most likely facing costly repairs.
Broken timing belt. Never let your timing belt degenerate to the point that it breaks. More often than not, the belt brakes when the vehicle is in motion. Not only is this a huge hassle, but it can destroy your engine!
To prevent the above situations from happening, the best thing you can do is inspect the timing belt regularly and have it replaced according to your vehicle manufacturer's recommended schedule or sooner if needed.
Our expert mechanics offer the best automotive repair in Tucson, AZ at the best price. We service all makes and models of vehicles and can do any repair whether it be large or small. Call us at (520) 622-7685 or schedule an appointment online.