843 S Campbell Ave,
Tucson, AZ 85719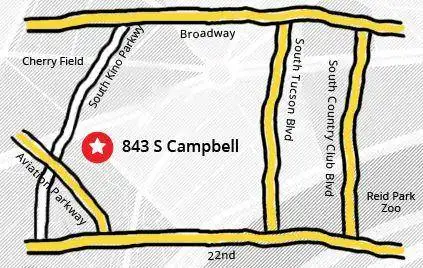 Monday – Friday: 7:30 am – 4:30 pm
Saturday-Sunday: Closed
Open 7:30am to 4:00pm and closed for lunch 12:00nn-12:30pm
Starter Repair and Replacement Tucson, Arizona
Yes! We can fix your car's starter!
Accurate Service provides complete starter repair and replacement for cars, pickups, and SUV's in Tucson, Arizona.
Call us at (520) 622-7685 or click here to schedule an appointment online.
Why Do People Choose Accurate Service?
"They towed my car, at the crack of dawn, from in the middle of nowhere, and had me on the road that same day. Thank you for everything and I will refer you to everyone." -Amado M.
"The place should be called prompt/reasonably priced/Accurate Service!" -Corey D.
What is the Starter?
The starter is an electrical motor that is connected to the battery. Its purpose is to set the engine in motion when you turn the ignition switch on. The job of the starter is complete once the engine starts and is in motion. Should the starter go bad, when you turn the ignition key on, the engine will not crank properly, if at all.
Signs of a Failing Starter
Signs of a failing starter are like that of a dead battery. This is because, without power from the battery, the starter cannot get the engine in motion. To help determine if your problem is with the battery or the starter you should test the horn, lights, and radio. If they fail to work, then the problem is most likely a dead battery. If they work, and your car won't start, then the problem is likely with the starter. The starter is an electrical motor, and will most likely fail and require replacement at some point in time. Most starter failures occur around the 125,000-mile mark.
Common Symptoms that Indicate It's Time to Replace the Starter:
When turning the ignition key, the car starts intermittently, or not at all
There is a single loud "click" but the engine doesn't turn over
Starter operation is noisy
Starter Repair and Replacement at Accurate Service
Your starter should be inspected during regular maintenance and checkups. If your car ever has trouble turning on, your starter is a likely culprit and should be inspected.
During your visit, we will:
Inspect the starter and ignition switch
Test the power going to the starter
Inspect the starter relay, grounds, supply cables, and battery
If it has failed, remove and replace the starter
Your vehicle will be connected to a starting and charging system test machine. The machine will display results, possibly indicating starter failure. Your service technician may also need to complete visual inspections. If the starter is at fault, it will be removed, bench tested, and replaced if necessary.
Our expert auto mechanics offer the best starter repair and replacement in Tucson at the best price. We service all makes and models of vehicles and can do any repair whether it be large or small. Call us at (520) 622-7685 or schedule an appointment online.