843 S Campbell Ave,
Tucson, AZ 85719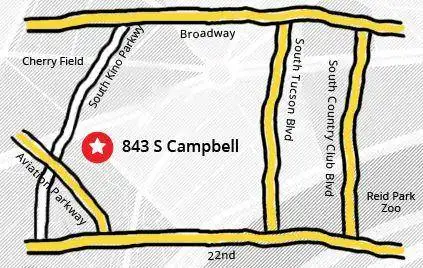 Monday – Friday: 7:30 am – 4:30 pm
Saturday-Sunday: Closed
Open 7:30am to 4:00pm and closed for lunch 12:00nn-12:30pm
Accurate Service provides complete automotive radiator replacement for cars, pickups, SUV's and commercial trucks in Tucson, Arizona.
Accurate Service has been providing Tucson with honest auto repair for over 24 years.
Call us at (520) 622-7685 or click here to schedule an appointment online.
Why Do People Choose Accurate Service?
"I am a business owner myself and I know how important customer service is. We own and operate an air conditioning and heating outfit and have been in business for over 33 years. We know the value of a satisfied customer and I am one of them!!! I would also like to give a BIG thank you to Annie Carlin for a great attitude and great customer relations."- David M. (Verified Facebook Review)
What is a radiator?
The radiator is a part of your vehicle's engine cooling system and is responsible for preventing the engine from overheating. When in use, the engine puts off a lot of heat and friction. The radiator, with the help of coolant, helps to make sure the engine runs at a temperature that is healthy for the vehicle.
 What are common radiator problems?
Low coolant level. If your vehicle fails to maintain a certain amount of coolant, the engine will overheat. Coolant levels should be checked at every oil change to avoid having them get low. A sweet smell, much like that of syrup, coming from the vehicle could indicate a coolant leak.
Leaking radiator hose. A leaking radiator hose is the most common source of cooling system leaks. The hoses connect to the engine allowing coolant to flow between it and the radiator. Over time the hoses become cracked or worn and need to be replaced,
Radiator leak. Finding the source of a radiator leak can be more difficult than a leaking hose. If you see steam or bubbles coming from a certain part of the radiator, that may be the location of the leak. Radiator leaks are tricky repairs that should be handled by trained professionals.
Broken radiator fan. There is an electric fan in most modern vehicles that pulls air through the radiator to help keep the car cool when it is running at low and idle speeds. If your car is performing well driving on the freeway but overheats in traffic or when idling, it could indicate that your radiator fan is broken and in need of replacement.
Broken water pump. The water pump moves the coolant throughout the engine to regulate the engine temperature. When it fails, the water will not circulate properly and the engine will overheat. This is a very common problem.
Failed thermostat. The thermostat is not technically part of the radiator, but it is often the culprit behind an overheating engine. The thermostat is a valve that controls the amount of coolant that flows in or out of the radiator to keep the engine running at its optimum temperature.  When a thermostat fails, the engine will overheat rather quickly.
When your vehicle is brought in for a cooling system/radiator check-up, there are several tests our technicians usually perform to make sure it achieves maximal performance including:
Cooling System Pressure Test- to make sure the system does not leak under pressure
Thermostat Test– to make sure it is regulating the coolant flow properly
Pressure Test on the Radiator Cap– to ensure that it will release at the proper pressure
Fan Test– make sure the engine fan and all other fans are working properly
Coolant Flush– if the proper amount of time has gone by the service station my flush and refill your coolant as opposed to just filling it
Our expert auto technicians offer the best car radiator service and replacement Tucson, AZ at the best prices. We service all makes and models of vehicles and can do any repair whether it be large or small. Skip the dealership and get quality auto repair service- with attention to detail -from Accurate Service, the team you can trust.
Call us at (520) 622-7685 or schedule an appointment online.