843 S Campbell Ave,
Tucson, AZ 85719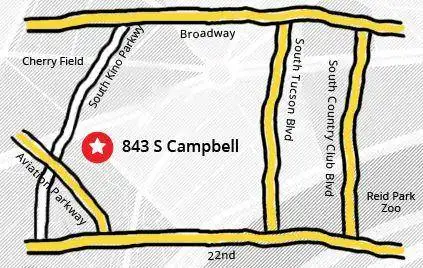 Monday – Friday: 7:30 am – 4:30 pm
Saturday-Sunday: Closed
Open 7:30am to 4:00pm and closed for lunch 12:00nn-12:30pm
Accurate Service: Tucson's expert commercial truck fleet service and maintenance facility.
It's a scary reality that many car owners are unaware of. Still, commercial trucks are the most accident-prone vehicles on the road. In addition, commercial truck drivers have to deal with traffic, weather, and other factors compared to the average driver. As a result, they're more likely than ordinary people because their vehicle needs attention due to these circumstances before expected, such as needing repairs or service sooner than anticipated.
If you're worried about how you'll find an expert commercial truck fleet service and maintenance company – fear not! 
Tucson's Accurate Service is here for all your needs. 
Why should you have your commercial trucks serviced by an expert Tucson commercial truck fleet company? 
Accurate service is a family-owned business that's been providing exceptional fleet service for over 20 years. In addition, we have the best mechanics in Tucson, and they always take great care of your vehicle with every visit.
Tucson's Accurate Service has experience behind the wheel, with Class 2 through 5 vehicles that you won't find anywhere else. We know how to get your cars back on track quickly and correctly without racking up a hefty bill before we've even finished! 
We offer our clients free pickup and delivery for the convenience of those who are in need. We also provide same-day service to help you out when time is a constraint!
Our Fleet Service and the vehicles we service
We specialize in servicing all types of vehicles, from box trucks to cab-over buses. Our team can handle a wide range of clients and their needs – whether it's diesel or gasoline-powered cars, we have the experts you need on staff!
From routine maintenance and oil changes to tires, realigning, suspension work, or replacing the air filter- we do it all.
Our team is committed to getting your vehicles back on track, from essential fleet services such as gas fillups and vehicle inspections to more specialized commercial services like a tire rotation or brake pad replacement. Our goal? A satisfied customer!
What sets us apart from fleet service companies in Tucson, AZ
We work with you as your company garage for the number of hours per week that you need us.
We are a time and materials shop, so we will charge in real-time and give estimates based on what we believe your vehicle needs. However, suppose those changes happen during our service. In that case, our assessment may also change accordingly to reflect this new information – but don't worry!
We're not here to overprice or sell you anything without first discussing it with you. Instead, we'll work hard and keep your fleet on the road by simply maintaining only necessary parts as a top-notch mechanic sees them – rather than trying poorly patched up issues when they arise, which will prolong repairs later down the line.
We are your one-stop-shop for all of your fleet needs. 
We service Isuzu and UD trucks, so you know that they'll be in good hands with us! 
Oil changes to engine replacements, we can do it all from our professional staff at a competitive price.
How does Accurate Service provide the best possible solutions to our customers' transportation needs?
We provide unparalleled customer satisfaction because we always go that extra mile for every one of your needs. We know that when you need your vehicle, it's never at a convenient time. We always want to be there for our customers no matter what! Suppose you have an emergency and can't make the shop during business hours. In that case, we'll stay open late or come in early so that we can get things taken care of right away as soon as possible.
Contact us to schedule an appointment with one of our experts in Tucson!
Here at Accurate Service, we want you to maintain a safe and comfortable life. That's why we have developed an efficient system for our service technicians to ensure that your vehicle rides are in peak condition every time you ride them! We offer very flexible scheduling for both maintenance and repair services at our facility, so call us today on  520-622-7685, or schedule your appointment online. You can also visit us at 843 S Campbell Ave, Tucson, AZ 85719.