843 S Campbell Ave,
Tucson, AZ 85719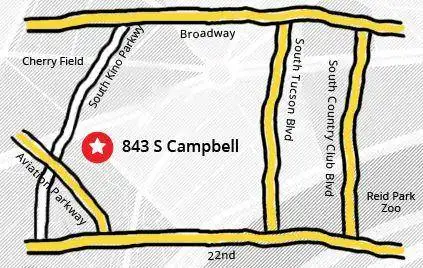 Monday – Friday: 7:30 am – 4:30 pm
Saturday-Sunday: Closed
Open 7:30am to 4:00pm and closed for lunch 12:00nn-12:30pm
Accurate Service provides emissions services for cars, pickups, and SUV's in Tucson, Arizona. Accurate Service has been providing Tucson with trusted auto care for over 21 years.
Call us at (520) 622-7685 or click here to schedule an appointment online.
Why Do People Choose Accurate Service?
"Great service! They diagnosed and fixed my car right away at a very affordable price. Will definitely be back if I need anything else done on my car."- Faith N.
What are Emissions?
When your vehicle is running it emits dangerous fumes and pollutants into the environment. As we all live and breathe the same air, controlling emissions is everyone's concern.
By Arizona law, your vehicle's emissions system must be kept in prime running condition. The emissions system uses an assortment of sensors, computerized engine controls, and exhaust components to reduce the amount of carbon monoxide (CO), unburned hydrocarbons (HC), and oxides of nitrogen (NOx) put out by your vehicle.
Arizona Emissions Testing
In the state of Arizona, to obtain registration, all vehicles are required by law to pass emissions testing. Some vehicles will require emissions testing yearly, while others only need testing every other year. A new resident of Arizona will be required to have their vehicle emissions tested before they are able to have it registered.
If your vehicle fails the emissions inspection, you are required to have it repaired and re-inspected. Re-inspection is free if you return within 60 days to the same inspection location and bring the original inspection report along with the repair information.
Steps to Take to Make Sure Your Vehicle Passes Emissions
The best way to ensure your vehicle passes its emissions test is to have one of our highly qualified auto mechanics perform an emissions inspection before your vehicle is tested. This is a short check list of items that will help ensure your vehicle passes emissions:
When tested, be sure that your gas tank is at least half full. Even better, try and fill the tank with fresh fuel before the test.
Have your oil changed before the test as dirty and/or deteriorated oil can cause higher emissions.
Get a tune-up. Air and fuel filters should be changed or checked to make sure they are clean.
Make sure the vehicle is running at the correct operating temperature per the temperature gauge on your dashboard.
Make sure the gas cap is tightly secured and that the "check engine" light is off. (A loose gas cap can trigger the "check engine" light.)
*Vehicles with a check engine light on will not pass Arizona emissions.
What to Do if Your Vehicle Fails Emissions
Several factors including vehicle age, mileage, poor vehicle maintenance, driving conditions, worn/damaged sensors, cracked/dry-rotted vacuum hoses, and low-quality fuel can wear down the emissions system and cause your vehicle to fail the test.
If your vehicle has recently failed emissions, bring it to Accurate Service for quality inspection, diagnosis, and repair. Our technicians will inspect the following items to determine what caused the vehicle to fail, then discuss your options to ensure your vehicle gets a passing grade at the re-test.
Air Filter
Air/Vacuum Leaks
Catalytic Converter
Distributor Cap
Distributor Rotor
Fuel Filter
Fuel Injectors
Fuel Pressure Regulator
Idle Control Valve
Idle Speed Relay
Ignition Wire Set (Spark Plug Wire Set)
Oxygen Sensor
Seals in your Exhaust System
Spark Plugs
Temperature Sensors
Our expert auto mechanics offer the best automotive care in Tucson, Arizona, at the best prices. We service all makes and models of vehicles and can do any repair whether it be large or small. Call us at (520) 622-7685 or click here to schedule an appointment online.