843 S Campbell Ave,
Tucson, AZ 85719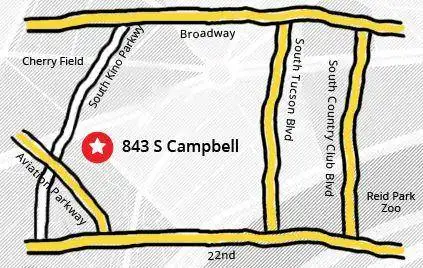 Monday – Friday: 7:30 am – 4:30 pm
Saturday-Sunday: Closed
Open 7:30am to 4:00pm and closed for lunch 12:00nn-12:30pm
Electrical Troubleshooting
Accurate Service provides complete electrical troubleshooting for cars, pickups, and SUV's in Tucson, Arizona.
We've been servicing vehicles in Tucson, Arizona for over 20 years!
Call us at (520) 622-7685 or schedule an appointment online.
What are Customers Saying About Accurate Service?
 "I felt that the owner and everyone that works at Accurate Service are smart, thoughtful, and conscientious, which takes a lot of anxiety out of dealing with an auto repair shop."- Britany P.
Every vehicle depends on a fully functional electrical system for safe and reliable operation.
Electrical problems are less common than the mechanical variety and are also more difficult to diagnose. Troubleshooting vehicle electrical problems is one area where it is important to rely on the know-how of the automotive technicians at Accurate Service.
About the Electrical System
There are literally dozens of electrical components that direct power in the electrical system of your vehicle. These components vary depending on vehicle make, model, and age. The electrical system includes the battery, battery cables, alternator, and starter. Newer model vehicles also contain advanced computer systems that work with other functions like the brakes, steering, and sensors. When your vehicle has trouble with any of these components it can cause problems with its operation.
How to Tell if Your Vehicle Needs Electrical Services
With many mechanical services, your vehicle will give you signs that something is wrong or about to go wrong, such as brakes that squeak or an engine that rattles. Electrical problems, however, don't always present themselves in a way that is easy to understand. You should have your vehicle's electrical system checked as soon as possible if:
Your battery is seven years old or older, or you don't know how old it is
The vehicle doesn't start. You hear clicking, grinding, or no sound at all when you turn the key
The dashboard lights are not illuminating properly
The headlights dim when driving at low speeds or idling at a stop yet the car runs just fine
The battery is visibly damaged or leaking
Electrical Troubleshooting at Accurate Service
Vehicle electrical issues can be complicated and usually require our automotive technicians to use specialized diagnostic equipment to pinpoint the problem. This equipment accesses the data that is stored in your vehicle's computer. The data found can be used to diagnose the exact problem with your vehicle so that our technicians can make the necessary repairs. A typical electrical system service includes:
A visual inspection of the condition of the battery and case
Testing the battery to ensure that it still delivers enough power and replace it if needed
Examination of electrical cable connections and adjustment if necessary
To troubleshoot complex systems and electrical problems it may be necessary to run engine diagnostics
Our expert mechanics offer the best automotive repair in Tucson, AZ at the best price. We service all makes and models of vehicles and can do any repair whether it be large or small. Call us at (520) 622-7685 or schedule an appointment online.