843 S Campbell Ave,
Tucson, AZ 85719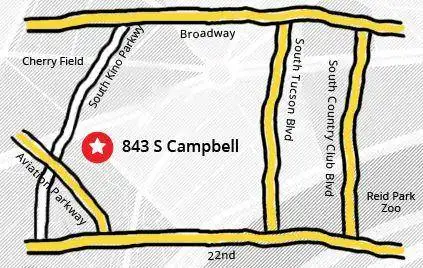 Monday – Friday: 7:30 am – 4:30 pm
Saturday-Sunday: Closed
Open 7:30am to 4:00pm and closed for lunch 12:00nn-12:30pm
Car Engine Repair Tucson, Arizona | Accurate Service Inc.
Accurate Service provides complete car engine repair for cars, pickups, and SUV's in Tucson, Arizona.
We've been repairing car engines in Tucson Arizona for over 20 years!
Call us at (520) 622-7685 or schedule an appointment online.
What are Customers Saying About Accurate Service?
"I felt that the owner and everyone that works at Accurate Service are smart, thoughtful, and conscientious, which takes a lot of anxiety out of dealing with an auto repair shop."- Brittany P.
"It was great. Didn't feel like I was trying to be sold anything and they helped accurately and clearly explain issues with my car."- Patrick O.
When it comes to automotive engine repair in the Tucson area, there is no one you can trust more than the experts at Accurate Service. Our technicians are thoroughly educated and equipped with cutting-edge technology and years of experience. We can accurately and efficiently diagnose and solve any kind of engine problem.
The best thing you can do for your engine is invest in regular maintenance and inspections. A maintenance schedule for your specific vehicle manual can be found in your owner's manual. For optimal engine performance, you should:
Have regular oil changes
Change the air filter at the recommended intervals
Replace the spark plugs per the vehicle manufacturer recommendations
Maintain proper tire inflation (tires that are over or under inflated cause unnecessary strain on the vehicle)
Keep vehicle properly aligned
Watch your gauges and dashboard lights closely and have any problems corrected promptly
Check brakes at recommended intervals
Never drive on an empty tank
Avoid revving the engine while in park or neutral
Avoid hard acceleration when the engine is still cold
When a vehicle ages, especially if it hasn't been properly maintained, engine failure is a real potential. Sometimes all it needs are a few "easy" repairs. However, occasionally, it will need to be rebuilt or even replaced. When faced with the decision of rebuilding or replacing you should consider what option will save you the most money in the long run. Our automotive expert technicians will be there to help you make and educated decision that you will not regret.
Car Engine Repair Options at Accurate Service:
Regular vehicle maintenance and tune-ups
Major tune-ups
Engine restoration and rebuilds
Engine replacement
Our expert auto mechanics offer the best engine repair in Tucson, AZ at the best price. We service all makes and models of vehicles and can do any repair whether it be large or small. Call us at (520) 622-7685 or schedule an appointment online.