843 S Campbell Ave,
Tucson, AZ 85719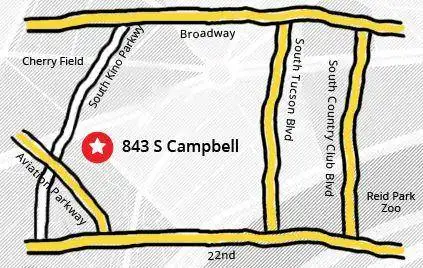 Monday – Friday: 7:30 am – 4:30 pm
Saturday-Sunday: Closed
Open 7:30am to 4:00pm and closed for lunch 12:00nn-12:30pm
Car Battery Testing & Replacement, Buy Car Batteries, Tucson, Arizona
Accurate Service provides complete automotive battery testing and replacement for cars, pickups, and SUV's in Tucson, Arizona.
We've been testing and replacing automotive batteries in Tucson Arizona for over 20 years!
Call us at (520) 622-7685 or schedule an appointment online.
What are Customers Saying About Accurate Service?
"Very professional people and knowledgeable."- Marc L.
"They towed my car, at the crack of dawn, from in the middle of nowhere, and had me on the road that same day. Thank you for everything and I will refer you to everyone."- Amado M.
Tuscon's summer heat can be bad for your car's battery.  It's a good idea to have your battery tested and replaced if necessary before the harsh weather drains it and leaves you stranded.
What does the battery do?
The battery is your vehicle's electrical power source. It provides power to the starter, ignition system, fuel system and other electrical components during start up. It also provides power to the electric components when your car isn't running. If the battery dies or is inadequately charged, your vehicle will not start and you will not be able to use any of the electrical components such as the electric windows, lights, radio, etc.
Symptoms of a failed or failing battery:
Your car needs a jump-start regularly
Car struggles to start or doesn't start
Electrical components don't work well (flickering or dim lights, windows roll down slower than normal, etc.)
Electrical components won't work at all
Corrosion on the battery cables- When you open the hood of your car and look at your battery, you may see a bluish or white powdery type substance on the battery cables. If left alone, this substance will corrode battery cables and terminal-ends. This is known as corrosion. Corrosion indicates that your battery is leaking acid, which is very dangerous.
For optimum performance from your battery you should:
Check your battery for cracks and loose wires every time you change your oil
Park in a well-insulated garage to limit the effects of the weather on the battery
Drive your vehicle regularly
Avoid frequent, short drives
Turn off/unplug accessories like cell phone chargers when not in use
Car Battery Services at Accurate Service
Perform a load test
Test the charge system
Test the alternator and starter
Clean the cables
Replace the battery if needed
Remember, you may have to reset your personal settings like the clock and radio stations after a battery is replaced or worked on.
Our expert auto mechanics offer the best automotive battery testing and replacement in Tucson, AZ at the best price. We service all makes and models of vehicles and can do any repair whether it be large or small. Call us at (520) 622-7685 or schedule an appointment online.