843 S Campbell Ave,
Tucson, AZ 85719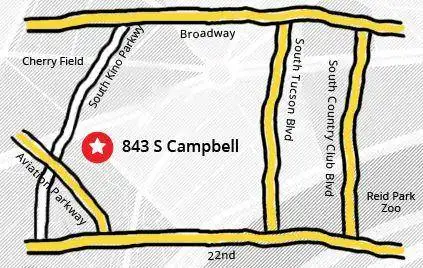 Monday – Friday: 7:30 am – 4:30 pm
Saturday-Sunday: Closed
Open 7:30am to 4:00pm and closed for lunch 12:00nn-12:30pm
Brake Service & Repair, Tucson, Arizona | Accurate Service Inc.
Accurate Service provides brake service and repair for cars, pickups, and SUV's in Tucson, Arizona. For over 20 years we have been Tucson's brake experts.
We know how important it is to have properly functioning and reliable brakes on your vehicle.  That's why we hire some of the best most qualified mechanics in Tucson, AZ.
Call us at (520) 622-7685  or click below to make an appointment online.
What are customers saying about Accurate Service?
"I am a business owner myself and I know how important customer service is. We own and operate an air conditioning and heating outfit and have been in business for over 33 years. We know the value of a satisfied customer and I am one of them!!! I would also like to give a Big thank you to Annie Carlin for a great attitude and great customer relations." –David M.
About Brakes
A properly functioning brake system ensures safe vehicle control and operation under numerous road conditions. The brake system is the vehicle's most critical safety system. If you ever suspect any problems with your brake system, you should have it checked immediately.
Brakes work by applying pressure to the inside of the wheels creating friction to stop the vehicle. Many brake systems use hydraulics to make it easier to press down on the pedal and control the rate at which the vehicle slows. All brake systems require brake fluid to keep lubricated and minimize wear on mechanical components. The brake pads that come into contact with the wheel will degrade over time, so drivers should pay close attention to the feel of their brakes. If you are feeling a shudder through the brake pedal, the rotors are likely warped and have uneven wear.
How do you know if you need a brake service?
When it is time for a brake service or replacement, you will notice one or more of the following signs.
Brakes are grinding, rubbing, or squeaking
Car pulls to one side when using the brakes
Brakes vibrate when you push on them
Brakes feel soft or mushy
You have to push the brake pedal all the way to the floor
The brake dashboard light glows amber, indicating problems with the anti-lock brake system (ABS)
The brake dashboard light is red, indicating a system imbalance
Accurate Service can easily deal with squealing, mushy, or unreliable brakes. Any time you notice these or other symptoms, it's a good idea to bring your vehicle in and have your brakes checked. If our inspection reveals you do need brake repair service, we will explain exactly what's required, what's optional and provide you with an estimate before any work is done.
Brake Services Performed at Accurate Service
Our mechanics know every part of your brake system and can perform any brake service on any make and model. Some of the brake services we provide are:
Brake caliper repair
Brake fluid flush or change
Brake grinding diagnosis
Brake pad replacement
Brake and rotor replacement
Inspect and replace or repair brake drums
Our expert auto mechanics offer the best brake service in Tucson, AZ at the best price. We service all makes and models of vehicles and can do any repair whether it be large or small.
Call us at (520) 622-7685 or schedule an appointment online.