843 S Campbell Ave,
Tucson, AZ 85719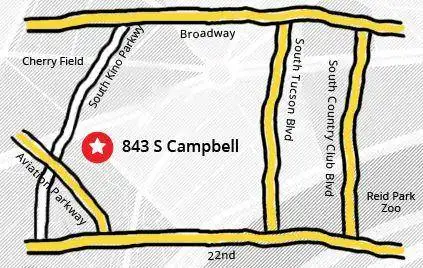 Monday – Friday: 7:30 am – 4:30 pm
Saturday-Sunday: Closed
Open 7:30am to 4:00pm and closed for lunch 12:00nn-12:30pm
Accurate Service has been known as Tucson's expert commercial truck fleet service and maintenance facility since 1996.
Here's what our customers are saying:
"I am a business owner myself and I know how important customer service is. We own and operate an air-conditioning and heating outfit and have been in business for over 33 years. We know the value of a satisfied customer and I am one of them!!! I would also like to give a Big thank you to Annie Carlin for a great attitude and great customer relations."   – David Murrieta, Tucson, AZ
Box trucks, cab-over trucks, shuttle busses, delivery vans, delivery trucks, diesel trucks,
What sets us apart from other fleet service facilities:
We function as your company garage for the number of hours per week that you need us.
We are a time and materials shop. We charge in real time and give estimates based on what we believe your vehicle needs. However, if your vehicle needs change, so will the estimate.
We are not afraid to tell you the truth about your vehicle, even if it may not be what you want to hear. We don't sugar coat things.
We are here to help you keep your fleet on the road. We won't try to sell you something you don't need.
We make every effort to fix your vehicle right the first time and catch any problems before your vehicle leaves our shop.
We are your one-stop shop for getting your fleet serviced. We do everything from oil changes to engine changes as well as perform body work, install tires, repair refrigeration and lifts and more.
We are Isuzu & UD specialists.
In addition to the basic fleet services, we provide the following fleet maintenance and commercial vehicle services:
AC repair
Alignments
Body and collision repair
Cargo box repair and replacement
Complete gas and diesel diagnostics
Computer diagnostics
DOT inspections
Forklift repair
Factory interval maintenance (30, 60, 90K)
Heater repair
Hydraulic and electrical repair and modification
Power window and door repair
Refrigeration repair
Repair lift gates, wheelchair lifts, etc
Replace tires
Scissorlift repair
Suspension work
Trailer repair
Trailer mounted equipment repair
Welding and fabrication
Windows and glass
Please call us to have one of our friendly fleet advisors set up an appointment to discuss your company's fleet service needs, 520-622-7685.
Here are some common questions we get asked about fleet service.
Do you work on diesel and heavy duty trucks?  Yes, we do. We work on all on-road vehicles.
What's your shop labor rate? We get asked this question a lot, but the question that should be asked is, "How much will it cost to provide this repair?" At Accurate Service, we are a time and materials shop meaning we charge in real time versus the traditional menu pricing that our competitors use.
Can you fix windows, doors, hydraulics, electrical, body work, etc.? Yes, we do everything here in-house. We have the tools and expertise to get the job done right.